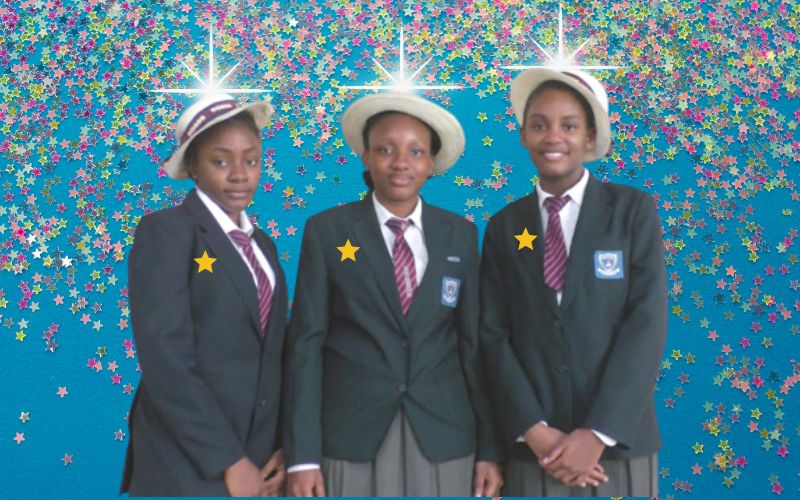 By BOSSS Media | November 25, 2022
BOSSS media paid a visit to the three rising stars of BOSSS who got exceptional result in the recently concluded Basic Education Certificate Exam, BECE. They got distinctions on all eleven subjects taken in the BECE exam. The purpose of the visit was to discover the secret behind their extraordinary performances.
The three rising stars of BOSSS are Eweputanna Amanda Ugonna, Ijeh Nmadinobinna Michelle, and Okeke Chimbinyelum Joan. They were overjoyed with their accomplishment and felt privileged to have accomplished such a feat. In response to their parallel As, the school has given each of them a full-term scholarship. The school went even further to immortalise them by erecting a prominent billboard in their honour along Mr. Tony Egbuche Road in BOSSS. The trio all stated that they worked incredibly hard by answering all of the questions in the LASWELL past questions and answers and never skipped any question they didn't understand by getting clarification from the subject teacher. They all stated that they were determined to break the previous academic record at the school. They expressed confidence in repeating the feat in future exams like WAEC, NECO, JAMB, SAT, and IGSCE. They also stated that they would leave no stone unturned in their efforts to thoroughly prepare for these examinations. The trio urged students who wished to earn such an amazing result to have a well-planned strategy for studying and preparing for their exams. Above all, they should continually pray for God's assistance. The chat with the three rising stars of BOSSS is pretty illuminating; in order to achieve a good result, students must be willing to work hard for it. Students should have a study plan, since failing to plan is planning to fail. Students should resist the temptation to believe that they have unlimited time to study or prepare for exams. As a result, the exam will not catch them off guard. BOSSS's policy is to always establish and maintain an enabling academic environment for her students to develop and achieve their full potential. BOSSS is delighted with these students' achievements and remains devoted to assisting all of her students in realising their full potential and fulfilling their destiny.